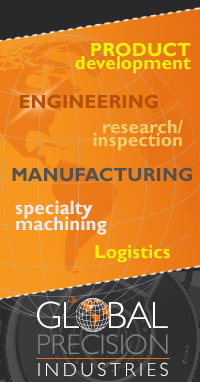 Global Precision Industries, Inc. works with businesses both large and small that do not have the experience or resources internally to take advantage of global sourcing initiatives. We work as an extension of your company where extra resources are needed to support existing activities for programs or the development of new products.
By outsourcing engineered component development and manufacturing to Global Precision Industries, you will realize time and cost advantages while attaining the best possible quality.
As a global provider of specialty engineered components, Global Precision Industries provides innovative solutions in specialty metal, plastic, and a variety of components. Our technical experts can engineer your components for manufacturability, as well as develop the manufacturing from among our proven network around the world. From the latest technology to exacting quality control, Global Precision oversees every step of the process to assure you the ultimate in product integrity.
Our dedicated team has extensive experience in all types of custom manufactured assemblies, sub-assemblies and individual components. We also have extensive experience in heat treatment of metals, powder coating, plating, texturing, and specialty surface treatment of all types of materials. Our ability to handle all facets, from material certification to manufacturing process development, through final assembly and packaging design suitable for international shipping, provides our customers with the confidence of getting the highest consistent quality finished production components.
Global Precision Industries, Inc. regularly sources custom components internationally and domestically. We travel extensively in all regions and also maintain an office in China. We understand how to handle all necessary phases of procurement in each country.