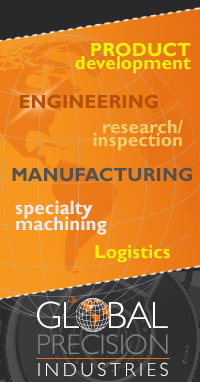 From concept to dock, Global Precision Industries, Inc. brings your ideas to life.  With decades of experience with the industry's leading software programs like 
NX, CATIA, SolidWorks, Pro-E, Vizi, Cimatron, and Autodesk Inventor
, we deliver optimized product development that minimize manufacturing costs while maximizing product durability, efficiency and appeal.
Global Precision Industries, Inc. brings innovative ideas, engineering talent, manufacturing know-how, people skills and global business savvy — all focused to provide complete engineered manufacturing solutions.
Whether you are a large consumer products company or an inventor, we can help optimize your concept.
Global Reach. Local Strength.
W177 N9886 Rivercrest Drive, Suite 101, Germantown, WI 53022