Building the Industry's Best…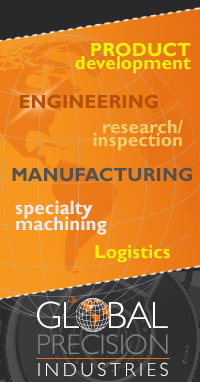 Global Precision Industries, Inc. brings innovative ideas, engineering talent, manufacturing know-how and global business savvy to deliver end-to-end manufacturing solutions.  Our dedicated team has extensive experience in all types of custom manufactured assemblies, subassemblies, and individual components.  We have extensive experience in metal heat treating, powder coating, plating, texturing, and specialty surface treatment of all types.
From 1 to 100 Million, we deliver on-time, on-budget and according to your specifications.
Our ability to handle all facets – material certification, manufacturing process development, final assembly, packaging design suitable for international shipping – provides the highest, consistent quality finished production.
All of our manufacturing systems are custom designed to increase productivity, improve quality and reduce overall costs. We'll take on your biggest challenges – in large or small quantities.
•     Plastic Mold Tooling (Injection, Compression, Extrusion, Blow, Dip, Thermoforming, etc.)
•     Mold Bases and Components
•     Metal Dies and Castings (Investment, Continuous, Resin, etc.)
•     Metal Stamping
•     Forgings (Rolling, Extrusion, Pressing, Bending, Shearing)
•     Standard Machining (3D Milling, Turning, Drilling, Tapping, Grinding, Finishing, etc.)
•     Gear Machining and Gear Box Making
•     Additive Manufacturing (3D Printing, Laser, etc.)
Global Reach. Local Strength.
W177 N9886 Rivercrest Drive, Suite 101, Germantown, WI 53022
At Global Precision Industries, Inc., quality is our commitment. We live it daily through integrity, insight and teamwork.
We assure inspection on every product we produce and strive to achieve industry leading standards. We validate and deliver these standards daily and build lasting customer relationships based on this principle.  Our relentless commitment quality includes our application for ISO 9001:2015 certification.