Streamline. Increase. Improve…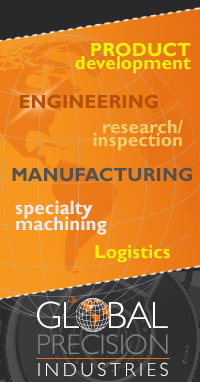 We are committed to our customer's changing needs and specialize in the development and building of special machinery for a wide range of applications. All of our systems are custom designed and engineered to streamline manufacturing operations, increase productivity, improve product quality and reduce overall costs.
We'll take on your biggest challenges.
High Tolerances
Global Precision Industries, Inc. routinely produces gages, fixtures or production parts that are within +/-.00005″.
Jig, Turning and Cylindrical Grinding
Tighter tolerances can be achieved in a faster time frame with precision Jig, Turning and Cylindrical Grinding services from Global Precision Industries, Inc. For the best in surface finish results, size control, and tolerances at the micron level, we specialize in custom Jig, Turning and Cylindrical Grinding services for contract manufacturing applications ranging from industrial to environmental.
Automation and Assembly Fixtures
Accuracy and longevity are important factors to ensure product quality at quantities that meet demand.  The Global Team delivers customize solutions that achieve customer specifications despite temperature, pressure, flow and motion constraints.  From Pressing Machines to Valve Assemblies to Line Automation for Molding and Demolding, Global Precision Industries, Inc. provides the expertise to deliver on time, on budget and ready-to-perform.
Automated Testing Gages, Jigs and Fixtures
Quality and precision manufacturing often require a test jigs or fixtures to check product parameters. From sample inspections to 100% testing fixtures, Global Precision Industries, Inc. is the expert designer and manufacturer of automated test equipment.  Our solutions span the discipline including Automated Testing, Endurance Testing, Thermal Cycle Testing, and Stand-Out Measuring.  All of our client solutions identify discrepancies, through a variety of methods including mirror articulations and extractions, and offer recommendations to address non-conformities.
Quality Inspections
Global Precision Industries, Inc. offers comprehensive contract inspection services. We provide solutions leveraging the latest equipment, diverse knowledge and expert staff to successfully deliver your contract inspection project…..0n time, on budget and ready-to-perform.
When it comes to quality control and inspection, a 3rd party verification is often necessary. We provide expert verification that follows currently accepted standards and guidelines to insure highly accurate measurement. With many years of metrology experience, you can rest assured that our third party inspection and verification services deliver only the highest standards.
Gage Restoration
Tools and gages wear out. At times, the most cost effective way to get that tool or gage back into production is by restoring it. Before you buy new, let Global Precision Industries, Inc. analyze your present tool. Our expert assessment will help restore your tool, get you back into production and maximize your revenue and profit.
Quality Control
At Global Precision Industries, Inc., quality is our commitment. We live it daily through integrity, insight and teamwork.
We guarantee 100% inspection on every product we produce and strive to achieve industry leading standards. We validate and deliver these standards daily and build lasting customer relationships based on this principle.  Our relentless commitment quality includes our ISO 9001:2015 certification.
Global Reach. Local Strength.
W177 N9886 Rivercrest Drive, Suite 101, Germantown, WI 53022