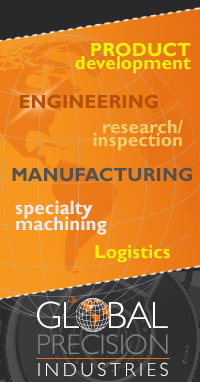 By outsourcing mold development, mold flow analysis and mold manufacturing to Global Precision Industries, Inc., you will be able to meet time and cost challenges while attaining the best possible quality plastic injection mold.
Our highly experienced product engineers can assist with prototyping, product concepting, mold tool engineering, and analysis, to ensure optimization of the mold. Our project engineers can then source the right mold manufacturer from among our extensive network of proven resources.
Mold Engineering
Our mold engineers utilize advanced development and analysis systems, including SolidWorks, NX, Visi, Pro-E, Unigraphics, Catia, Cimatron, and Moldflow to streamline the development process and devise innovative but practical mold solutions. Globally, we can read, translate, import, and export most any files from your existing CAD data, or simply develop models from sketches, prototype samples, concepts or existing tooling.
All mold designs are done in complete 3D solid models, which are amazing aids for visualization during the mold development process. Customers see the mold quickly develop as we regularly conduct collaborative web-based online review meetings during the development process. This process significantly accelerates the completion time on a project and allows our customers increased speed-to-market over conventional sourcing initiatives. Our customers can be confident that all molds will retrofit with their existing equipment and processes, allowing smooth transition for new and existing projects.
The quality of our engineering produces bona fide cost savings during the mold construction and molding processes. Combined with our many years of mold expertise, we follow strict mold guidelines to maintain uniform wall thickness throughout the part, minimizing shot weight. We concurrently analyze all facets of mold functionality, and piece part integrity, with processing parameters of your equipment. This process consistently delivers the highest level of part quality, reduction of material costs and shorter cycle times, providing you the optimum piece part value.
Mold Flow Analysis
Mold flow predicts accurately the behavior of plastic materials under different processing conditions and design parameters. We have the full suite of mold flow software modules to perform a variety of analysis procedures which enables our customers to save on materials, process time and processing costs, and to optimize design.
We can carry out analysis for:
Fill Analysis
Flow Analysis
Cool Analysis
Warp Analysis
Mold Flow Analysis is crucial to achieve:
Optimization of material usage
Optimization of Process Parameters
Optimization of Cycle time
Optimization of Gate location, Feed System and Cooling circuitry
Prediction of defects and suggestions to overcome / avoid the same
Warpage prediction and suggestions for minimizing warpage
Mold Manufacturing
At Global Precision, our dedicated project engineers are experts at all aspects of sourcing and overseeing plastic injection mold manufacturing, including sampling of plastic injection molds, with complete CMM validating of the end product.
We utilize our proven global network of reliable plastic injection mold manufacturers who can produce the necessary quality tooling — from simple to complex, and from miniscule to massive — within the project budget and time frame. Our project engineers are on the ground working closely with the mold manufacturer to ensure that the tool meets the exact design specifications.