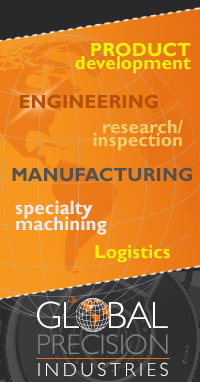 Distribution and supply chain management is challenging and constantly evolving. Global Precision Industries, Inc. brings extensive experience in international trade and transportation.  Our C-TPAT Level 2 certification ensures that we clear Customs with the least possible amount of concern or delay.
Our proprietary GlobalTrax™ system provides real-time shipping status reports throughout transit.
Our expertise delivers on time and according to customer needs through intermodal and land freight services.  We activate our proven network of international freight forwarders and logistics partners to benefit our customers.
Our team provides Expert Project Management of the entire process. It enables us to "package" the project by efficiently coordinating tooling, manufacturing and specialty machining schedules and pre-book shipping – which eliminates instances of finished product sitting idle on the dock.
Whether dealing with global financial transactions of domestic and international logistics compliance, we have the knowledge, processes and connects to get the job done.
Global Reach. Local Strength.
W177 N9886 Rivercrest Drive, Suite 101, Germantown, WI 53022